One of the first thing that I learned about Slovakia when I arrived here is that the people here loves hiking or "turistika" Before arriving in this country I had never hicking in a mountain before, not even a small one, but now I can safely say that it is one of my new favorite things.
My first approach to hiking was a couple of weeks after my arrival in Slovakia. With my class we had a trip to Veľké Tatry where I had the opportunity to meet completely beautiful and different places than I used to see. Our first destination was Gerlachovský Štít, which until a long time later I learned that it was the highest point of all. I also met other beautiful places like Skalnaté Pleso, Štrbské Pleso, Popradské Pleso, among others.
I also had the opportunity to climb again in Vysoké Tatry along with the rest of slovak inbounds, by Poprad meeting. It was a lot of fun to be able to share that experience with my friends, there were a million falls accompanied by laughter and also MY FIRST SNOWBALL BATTLE.
I live in the city of Martin, where we have Martinske Hole which I had the opportunity to climb repeatedly but nevertheless the one that I enjoyed the most and was most special was on Christmas Eve. My host family has the tradition of every year before Christmas to go climbing and this year they invited me; I went with my brothers and my father. As soon as we arrived, we noticed a little snow, but more samples we climbed more snow until it became a storm at the time, I was very excited since it was one of the first times I saw snow. Without a doubt, it is one of my best experiences in my life.
After so many times climbing and enjoying I came to the conclusion that although sometimes it costs me a lot to climb once I am up, I only feel satisfaction and pride in myself. I'm almost sure that when I return to Argentina I will continue climbing.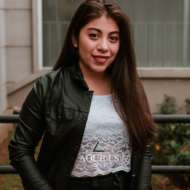 Hello from Argentina! I will arrive in Slovakia in August and I hope to have an incredible exchange year 🙂