V lednu, jedna holka přijela z Brazilie. Ona se jmenuje Poliana, a byla v Česku asi 6 roku zpátky. Jsem byla na druhé rodiňe, a ona měla tu stejnou rodinu, takže jsme byli spolu doma. Já jsem byla prázdniní, takže jsme byli na horách týdnu.Tam jsme lýžovali, udělali jsme sňehulák, a byli jsme na praděd. Bylo to moc hezký výlet. Když jsme byli na praděd, bohužel počasí nebylo dobré, ale jsme hodně hodili, a nahoře jsme jedli Guláš, Svičikovou, a sládké knedlíky. Mám ráda všecko české jídlo, a všecko jím, proto jsem měla plus 7 kilo za půl roku.
Babili isme i doma.Tam jsme hráli hry, a dívali jsme se na filmy. Když jsme hráli hry, vždicky výhrala moje hostitelská maminka, takže bylo to závaba. Venku foukalo, ale doma bylo teplo. Jedli jsme výborné polevku které udělala moje hostitelská maminka, a spali jsme dobře. Já jsem si myslela, že bych chtěla zase přijet jako Poliana. Protože ona miluje Česko, a já taky miluju Česko. To je moc hezké, že zase přijet kde mi moc líbí. Já jsem jistá, že když zpátky domů do Japonska, hibi mi všecko od Česka, ale sibuji, že se zase vratím tady. Miluju krásné Česko!! A děkuji za hezký výlet.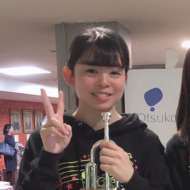 I'm from Japan🇯🇵
I like playing the trumpet.