Saturday morning, bright and early, my host parents and I set off for the seven hour drive to Budapest, Hungary. Many stops later, including lunch in Bratislava, Slovakia, we finally arrived.I don't think I'll ever forget the first time I saw the Parliament building. We had missed our turn and as I looked out my window there it suddenly was. My breath was taken away.
Our first full day, Sunday, we spent visiting the Castle District. For me, one of the most beautiful parts was the Buda Castle, built from 1749-1769 in Baroque style. 25,000 steps later we made it back to the hotel, we went to the thermal baths and collapsed into our beds after having dinner.
Monday morning we walked along the Dunabe river to tour the Parliament, a sight that never gets old. As an American its so surreal to be in famous buildings like these. I'm not used to seeing places that are so rich in history and carefully built architecture. Multiple times I found myself at a loss for words. Especially in the National Assembly room.
Tuesday, like every other day, was also very unreal for me. I have a friend who's on exchange in Budapest so I had the opportunity to meet up with her and her friend from Mexico. After walking around and catching up with this friend that I haven't seen in eight months, I met up with my host parents again.
I'm very interested in history so as we walked to the Great Synagogue I felt moved by all the things from Hungary's past. Whether that be statues, buildings, photographs or something as simple as a tram. Europe (especially Hungary as it's one of the oldest countries) is flooded with things reminding you of their distory, devestating and momentous things filled with significance.
We ended the day walking to the hotel in the dark with the light of the city.
Fast foward to Saturday, location: Pilsen. My previous host family is very involved in folklore so I got to participate in "masopust" which is a sort of carnival that celebrates the start of spring. We dressed up in costumes and sand and danced. It was a very unique experience.
I'm so grateful for my more than welcoming host families and the opportunities that they've given me.
Read more from other students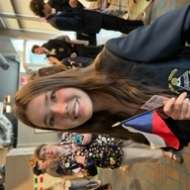 united states –> czech republic
I'm 16 and from Colorado, United States.
I will be an outbound to the Czech Republic in 2022 to 2023!