Ahoj z Česka! My host family and I have made it home safely from the UAE, so as I promised in my last post, I will take some time to share a little bit about our trip. Our adventure started very early on the morning of December 1st. The journey was uneventful – an easy direct flight from Prague to Dubai that lasted about 6.5 hours. We landed as the sun was setting over the ocean and skyscrapers; it was beautiful. After settling in to our Airbnb for our family of seven, we went out to explore the city. 
Most days we headed to the beach as soon as we woke up. The ocean was right behind our hotel, so it was only about a 3 minute walk. We would spend the morning lying in the sun and swimming in the ocean, eat lunch on the beach from a local Arabic deli, then head up to shower and get ready for the remainder of the day around 14:00. For me, beach mornings were one of the best parts of the whole trip. The ocean is easily my favorite thing in the world. I could spend all day listening to the waves, breathing in the salty air, feeling the warm breeze blow through my hair. I love it. Also, this was one of the nicest oceans I've ever swam in. The water temp was always the same as the air (high 70's, low 80's) and it was so calm. I wish I could wake up this way every morning!
Most afternoons we would head into the city to explore different parts of Dubai. We did all the typical touristy things such as Burj Khalifa and the malls, but we also spent many evenings at different markets hidden in the outskirts of the city. We had lots of fun haggling with the locals and we found some pretty unique buys. We also discovered some amazing restaurants in these areas.
We also spent some time exploring other parts of the country on a few day trips. It was really interesting to see how different everything looks once you're outside of Dubai. Skyscrapers and sports cars are replaced by desert huts and camels. I think by seeing these things, we were able to get a much better understanding of what life in the United Arab Emirates is really like.
We wanted to visit Abu Dhabi because it is the capital of the UAE and because it is home to a very famous mosque. The Sheikh Zayed Grand Mosque, with a maximum capacity of over 41,000 people, is the biggest one in the country. We were in Abu Dhabi on a Friday which is prayer day, so almost everything was closed. The place looked a little like a ghost town (but a beautiful ghost town, of course). It took us over an hour of driving around the city before we could find a place that would serve us lunch! It is so amazing to me how the whole city is able to pause like that while everyone gathers together to pray in congregation. The Grand Mosque was full of worshippers all day, but visitors were allowed in around 17:00. When we got there, they gave us a traditional robe (abaya) and a headscarf (shayla) that we had to put on before entering. It was absolutely breathtaking inside!
We also had the chance to take a day trip to another one of the emirates, Fujairah. Fujairah is the only emirate that is located completely on the eastern coast of the UAE. Its shores extend along the Gulf of Oman for over 70 km. We planned to go diving here, but unfortunately the weather wasn't on our side that day. The waves were crazy, it was pretty cold, and there was even some rain. It was a bummer, but we still had a fun day on the beach huddled up under our towels.
My favorite day trip that we took was to a desert not far outside of Dubai. Our guide came and picked us up from our place in a typical desert safari jeep. We drove out until the road stopped and the sand started, then he deflated his tires to enable us to drive up the sand dunes. It was so fun drifting through the sand; it felt like we were flying. At one point we stopped to get out and walk since some of my siblings were getting pretty car sick from the crazy driving. Our guide brought some boards for us to ride down the dunes on like we were sledding or snowboarding. Next, we headed over to an area where we rode camels through the desert. Nearby there was a place where we sat on bean bags in the sand and drank some Arabic coffee. We also ate traditional sweet dumplings, called Luqaimat, which were basically balls of fried dough covered in date syrup and sesame seeds. They were quite good! After that we met with some other groups of tourists for the dinner. There was a huge BBQ with so much food, along with some pretty cool entertainment. Around 22:00 the night came to an end and our guide drove us back home. It was a blast!
We're finishing up our last week of school before being off for the holidays until January 6th. I'm really looking forward to catching up on some sleep and eating all the yummy Czech sweets that my host mom has begun to prepare. It will hard to be away from home for Christmas, but I know I have so many people by my side here in my new home that will help make it one to remember. Sending my best wishes for your holiday season, and for happiness and health throughout the coming year.
My New Years celebration was actually quite similar to what I would do in the states. I spent the evening with my host family (actually my second host family, because we had switched a few days prior). It was a relaxed afternoon… we had dinner, talked, and played card games. At midnight, we had kids champagne, which was surprisingly good! After, we went outside and set off some fireworks and firecrackers.
I hope everyone had a wonderful Christmas and has a happy and healthy new year ahead of them! Veselé Vianoce a šťastný nový rok (Merry Christmas and Happy New Year)!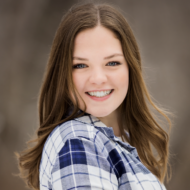 Hi, I'm Elsa! I'm from a small town in Minnesota. I'm 18 years old and I will be living in the Czech Republic for my gap year before attending Grinnell College.