Since the exchange, I have known Slovak culture, one of the most important and interesting is hiking. In Taiwan, I don't like hiking very much. Also in Taiwan we have so many mountain, high mountain 3952 m.
But there often is wet, hot and so many bugs. so i more like mountain at here, here has nice weather and nice temperature(summer) and most important one is no bugs and mosquitoes.
The first time I climbed with my family we prepared hiking shoes, towels and bread. I used to think it was just a short walk. We started from 9am until 1pm we reached the top of the mountain. I felt very hungry and tired. We had lunch Over there.Then we set off finally finished at 4pm.
Second time I join hiking trip with school. it's one week and every day we hiking. we had lot of beautiful view. we pick mushroom when we hiking and bring there to hotel cook with eggs, yummy. One day we came to a familiar place. it's same mountain we climb with my family!
At the end, I finished all the activities, got so many special experience and looking look forward to visit here again!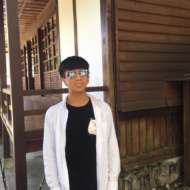 I'm come form Taiwan D3501🇹🇼