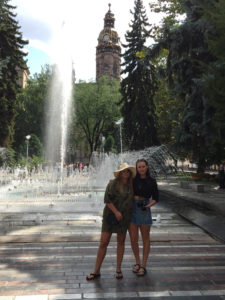 It has officially been a whole week of living in Kocise Slovakia, and it has been a very full week. A week full of amazing amounts of high points, a hand full of low points, and many new challenges.
When I had first flew into Kosice, I had many different emotions crashing over me, it was my first time seeing in person what my life will look like for the next year. I walked from my plane into one of the smallest airports I've ever seen, with one area to pick up your luggage, and another to exit the actual airport. There my first host family was waiting for me with a sign and open arms. Through out this whole week they have been the reason why I have kept my positive attitude. They're incredibly helpful to me in every single way and they have done a great job of making me feel like part of the family since day 1.
My first hours were spent talking with my family and trying my first Slovak dish, Bryndzové Halušky, which is very different, but very delicious as well.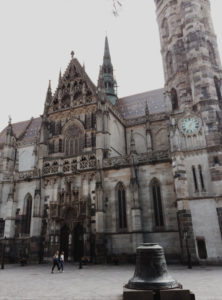 My family showed me around my new home, introduced me to the cat, Tidy, and finally let me sleep for I had been up for the past 24 hours. The following day was spent touring around the center of Košice, which was nothing like I had seen before, every building seemed to be perfected with amazing precision and detail. My favorite site was the Cathedral of St. Elizabeth. Everywhere you looked was a image of beauty, with stained glass windows, becaustiful statues, and details everywhere you look. 
   The rest of the week was filled with meeting new people, and figuring out the challenges that I was gonna face through out the year. Basketball practice was my first look into what its like to be a complete alien, a total stranger, which is something I'm not use to. But as the week went on my conversations with the team became longer and I began to feel right at home with a new team. And the same for my new school, with time things seem to just get better and better.