I can't believe that two months have already passed by, everything seems to be happening way too fast and I don't want my time here to be done so soon. I know that I still have 8 months left but it is still crazy how much has already happened.
In this month a lot has happened, my host parents have taken me to Prague, the capital of the Czech Republic, and to Slovakia to hike in the High Tatras. During this month I also finally got my Long Term Residence Permit which was a huge relief to have as it meant that I can stay here for the full year.
Trip to Prague
During our trip to Prague we did lots of the typical tourist activities such as exploring the old town, walking across the Charles Bridge and visiting the Prague Castle. We also had plenty of wonderful food whether it was Czech or Indian food. However we also did some less touristy things such as a "Plague Tour" where we learned about medieval plagues, how they tried to prevent them, and how they "cured" them. I found this to be really fun and different as we weren't in the usual tourist spots with lots of people, however we were in more secluded places where we still learned a lot and got to visit beautiful places.
Trip to High Tatras
The other trip we had was to the High Tatras in Slovakia which I absolutely loved. We stayed in the town of Starý Smokovec which was such a beautiful town, although on the first day it was to cloudy to see how the town looked we were able to go to a spa which was a nice way to relax before the next day. During the next day it was much clearer so I was able to see how beautiful the town was and also see the wonderful views of the mountains. On that day we made our way up a valley in the High Tatras to a small chalet named Téryho chata, in total it took us around 4.5 hours with 17.4 km and 1,104 m climbed. It was a great challenge that also brought a lot of wonderful photos along with it.
Ordinary life in Czechia
These events were some of the most exciting things that happened during this time but that doesen't mean that I haven't been having a wonderful time in regular day to day life though. Even if it is much harder getting into a regular schedule and not having everything be super fun it has been so interesting to do so and realize what life is like for other people. I also have had a lot of fun with meeting new people and becoming friends with them, during the first month it was definitely a lot more difficult but now that I am connecting more with my class mates it is getting better.
Thank you to everyone who is supporting me so far, both in country and out of country, and I cant wait to update you guys in my next blog post. Until then make sure to check out the photo gallery to see what I am doing and to stay even more up to date you can check out my Instagram @thatch.patch.cz
Read more from other students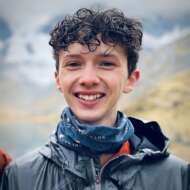 I am 16 years old and am from Oregon, USA
I love playing tennis, mountain biking, and hiking
I also love traveling and visiting new countries 🙂