I sit here in class with an empty page in front of me and I have absolutely no inspiration!!!!! I'm sorry :// I'm going to blame this on the fact that I have a pounding headache and can't go more than 10 minutes without having a sneezing fit…#paigecanthang. This Californian is kind of weak and apparently can't handle the cold as well as she thought she could 
 Anyway, the past two weeks were super fun-filled (why do I sound like a camp counselor explaining a week of summer camp)!
WARNING: v long blog post ahead. Watch out!
First Stop: Prague, Czech Republic! 8-10/12/2017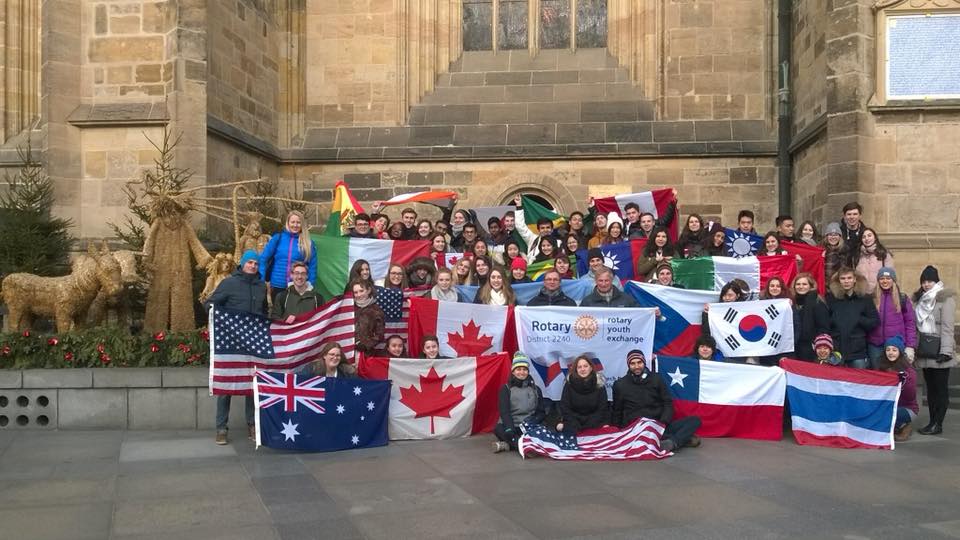 Last weekend, the CZ exchange students in my district headed to the beautiful city of Prague (*cue angel voices*) for our Christmas conference. First things first, we checked into this cute lil hotel which was extremely different from hotels I've stayed been to in America. I don't know if all hotels are like this considering this is the only one I've stayed in here, but there were 2 rooms for separate guests and then they shared a kitchen and bathroom. After dramatically reuniting with all the students we ate really good duck and then made our way back to the hotel for a scary azzzzz language test that we had all been frantically studying for and talking about for weeks. The written portion wasn't necessarily easy, but it wasn't cry-worthy difficult. However, we were given like minus 10 minutes to do it so I think I would have done better if we had more time. Afterwards, the American Idol judge panel presented themselves before us to test us on our speaking skills. They asked each of us questions in Czech in which we had to respond in Czech, as well (obviously). As soon as I was about to accept my unpleasant fait, I found out I got a 2 (this is equivalent to a B)! I mean it isn't an A but I'm down with it.
Thankful AF that we got the hard part of the weekend out of the way, Saturday called for a stress free, delightful day. We went on a tour around the city, seeing the Prague Castle, Charles Bridge, and the John Lennon Peace Wall. The wall was definitely my favorite part because 1) I like the Beatles, 2) the wall is full of vibrant colors and some pretty cool art, and 3) we got to write our own names on the wall and some students painted a mini mural symbolizing our district. Ahhh whatta experience! After lunch and a stop at the mall, we made our way to the Christmas market. My friends and I splurged on trdelnik and some candied nuts, while talking to each other and listening to a popular Czech band perform in the square. Although my entire body felt numb from the cold, it was an awesome time with everyone. Then, we went to a restaurant to eat a somewhat common Czech Christmas meal. To top off the night, the Rotex put together a cute lil Christmas party for the students with presents and Christmas candies (AKA cookies). We sang a traditional Czech carol which hasn't been able to leave my head since…yay!!!!!!!!
Půjdeme spolu do Betléma dudaj dudaj dudaj dá!!! Ježíška panáčku já tě budu kolibati Ježíška panáčku já tě budu kolibat!!!!
The next day, my fellow Třebíč exchangers and I headed to the bus station to go home. We were then stopped by the police and almost held captive and would have had to pay a large fine or go to prison for the rest of our lives because we didn't have our metro tickets on us. Don't worry, we pulled the "Oh we are foreigners and we don't understand how the system works and we don't speak Czech well even though basically everyone in Prague speaks English. Sorry!" excuse!
Next Stop: Vienna, Austria! 15/12/2017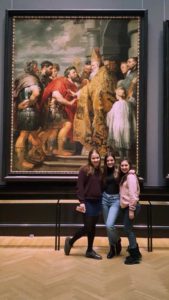 The schools in Europe like to take school trips to different countries…imagine that! Super casual, right? Anyway, so my school decided to go to Vienna for the day. We left the city bright and early on Friday morning and arrived in another country within two hours :))) I spent the bus ride hanging with my fav girls, Esme and Ebi, and the cutest lil nuggets from the younger class (11 year olds I believe). They're literally so cute and adorable. The moment we got into the city I noticed how freaking beautiful this city is!!! The architecture is so elegant and clean. The first stop we made was an art museum. We saw a multitude of nude paintings, but my fav were the landscape pieces lolz. Afterwards we went to a Christmas market where my friends and I indulged in the best hot wine!! The stand even let us use these santa mugs as our cups but yo girl wasn't trying to pay the extra 4 eruos for subpar painted mugs so we had the option to return it once we finished our drinks to get our $$$$ back. Okay so let me just give you the quick rundown…afterwards we went to like four more markets and one other museum. The second art museum was my favorite because the art was more my style and they had comfortable sofas to sit on so like that's obviously a plush plus.
At the markets I ate the BIGGEST FREAKING POTATO ever!!!! It was bigger than my head and it was covered in bacon and garlic sauce.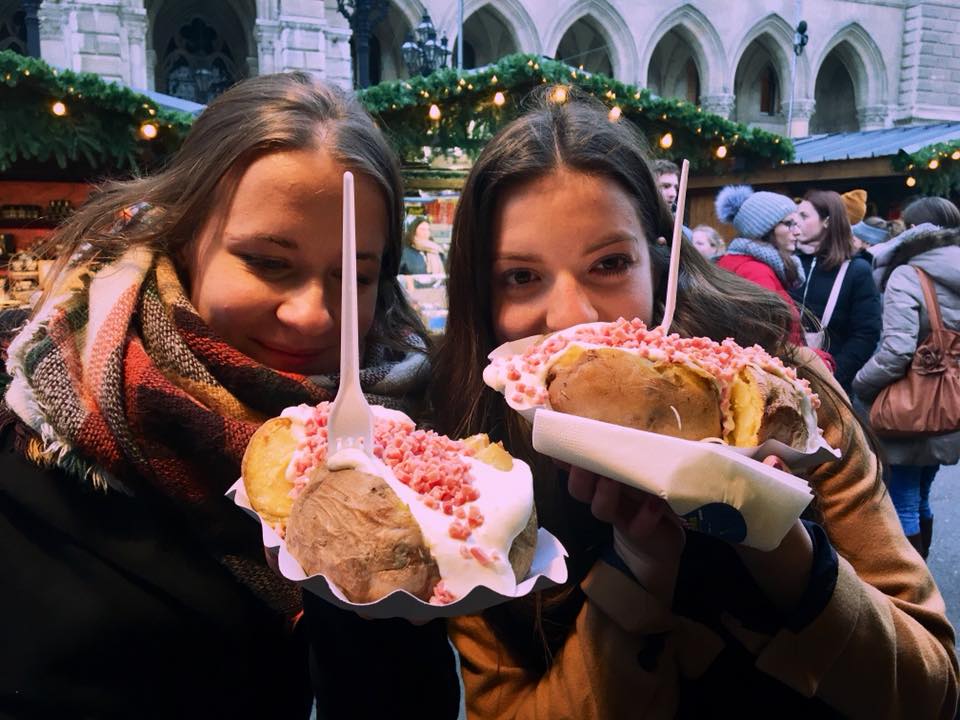 I also tried bratwurst. So basically I was the size of the Biggest Freaking Potato Ever by the end of the day. *Side note: Christmas markets are v popular in Europe. They have venders with little trinkets, Christmas decorations, drinks, and tasty food.*
Last Stop: 17/12/2017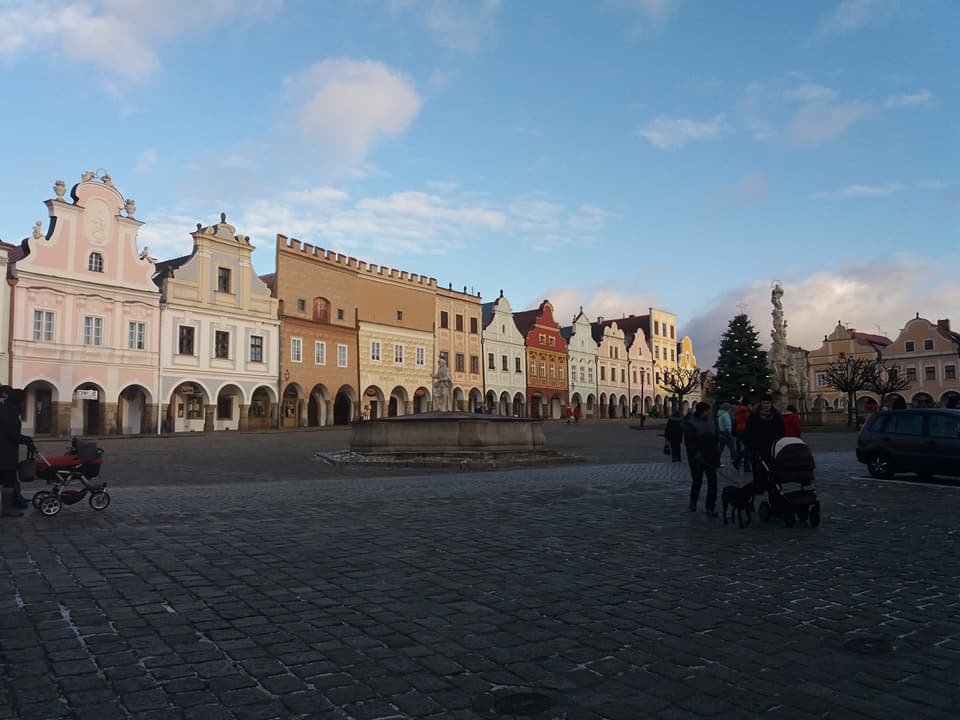 Yesterday was Mr. Ryneš's and his lovely wife, Mrs. Rynešová's, annual Christmas excursion with the Třebíč exchange students. We took a trip to a quant, small city by the name of Telč. We went to a church service in a beautiful, snow covered church! Because I didn't understand anything the preacher was saying, I just silently prayed in English lol! But, Esme and I have recently joined in on our school's church choir so we were familiar with some of the songs in yesterday's service. Afterwards we went to a pub for lunch and I promise you I had the best Czech food ever here. I had this dank pork with cheese and ham on top, potatoes, and 
vegetables 
 (these are kinda hard to come by here which is another reason why I am the Biggest Freaking Potato Ever). To finish off the trip, we went to a castle where some of the locals presented a musical skit about the Nativity Scene. Something that strikes me as interesting in the CZ is that despite its large percentage of atheists here, they take traditional Christmas very serious. I like it! Thank you so much for taking me and my friends on this trip!! I had a fun time